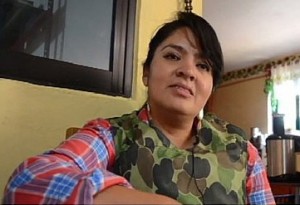 By Gloria Muñoz Ramírez
Desinformemonos
March 17, 2014
Translated by Scott Campbell
Day and night, Nestora Salgado García inhabits a dark world of artificial light. Fifteen days pass without seeing a ray of sunlight. She has no physical contact with anyone, she is only allowed a hug and cannot touch her daughter or her sister when they visit. Not even the guards speak to her. Instead of the four hours every 12 days for visits that she has the right to, after her family members pass the ordeal of security checks, they are left with only two and a half hours. She doesn't have the recommended medication for the spinal problem she has suffered from for 12 years. In prison, Nestora lives in punishment for her bravery.