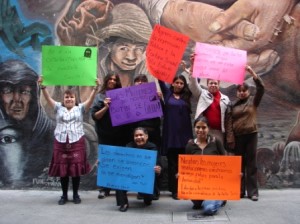 Take the picture alone or in a group, spread it around in social networks online, and make sure to send a copy by email to:
comunicacion@centroprodh.org.mx
On the 3rd and 4th of May 2006, during the police operations in Texcoco and Atenco (Mexico), the Mexican State (the 3 levels of government and the three central police agencies) tortured 207 people who they arrested, and sexually tortured the women who were captured that day.
From that day on, the women who were arrested began a legal process against the Mexican State, which has reached international courts.
This Thursday, March 14, 2013, The Inter-American Comission for Human Rights (IACHR) will hold a hearing in which a team of women will give their testimony.
We must stand in solidarity with these women!